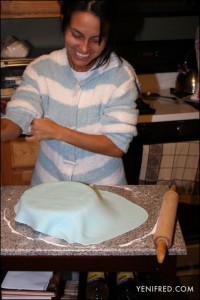 It's that time of the year again… the time where Fred decides to:
Talk about himself in the third person
Change the website design
Look forward to Thanksgiving
Digress
Well, we all know that #3 and #4 happen all year long. Man I love some Thanksgiving. (uh oh, looks like I'm talking in the first person again)
So what's been happening?
We recently purchased a Kitchen-Aid mixer; sadly, something Yeni and I always wanted. Well, maybe not so sad I guess. I mean we both love to cook and she's been cooking up a storm. We're talking homemade cannoli, homemade cakes with fondant, and did I mention everything is 100% homemade from scratch? I've only used the mixer a couple of times to make bread, but it really does keep with our theme: Dreams come true. Even the small dream of owning a Kitchen Aid mixer can come true. (pictures)
Of course, all of these homemade amazing yummies isn't helping me lose weight, but did I mention homemade cannoli? I mean Yeni is my dream girl already, but who knew she could make homemade cannoli??