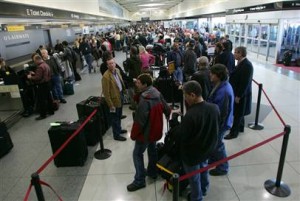 As a boy, I loved going to the airport. I remember being fascinated by the TWA terminal at JFK, awed by the escalator down from LAX, and excited to see the ocean immediately after take off from Fort Lauderdale. Airports also meant seeing family, visiting new places, and let's not forget all the cool planes. I associated air travel with very positive emotions.
Well, a funny thing happened on the way to Detroit…
Today's world finds me loathing any experience with airports, airlines, or at this point just air travel. For the third time in a year, US Airways cancelled my flight. I like numbers, so let's look at it this way… I've taken 3 trips on US Airways since April 2008. Each of the three have had a cancelled flight, and, two of the three delayed overnight; requiring a hotel stay. So, in percentage… 100% of trips on US Airways have a cancelled flight and 67% delay arrival by a day or more.