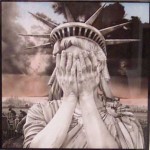 You already know where I'm going— it's in the title after all. At this time, I do not support the health care bill. Now before I get into the many reasons why I do not support this legislation, let me spell out the following disclaimers.
I am a small business owner. I am not a Republican. I am not a Democrat. I proudly check the NPA (no party affiliation), when I register to vote for one simple reason— I vote along my ideals and conscious; not along some party mantra. As a general rule, I feel that the government continually mismanages money and our current news media fails to account the statements of government officials to any fact check or truth test.
With that introduction out of the way, I can now describe why I believe our government failed us— as we should expect it to. After all, the Founding Fathers did not want us to depend on our government; and for good reason.