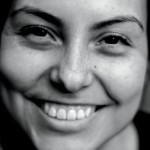 Recently, a bi-partisan group is attempting to create a "path to citizenship" for illegal immigrants. Many in our community (and country) support such a plan — I do not.
Of course I'm biased. I've spent tens of thousands of dollars on fees, wiped away more tears than one can count, and have had my motives questions all to follow the rule of law and have Yeni and I keep within the bounds of legal immigration.
As most know, Yeni is Colombian. She's also very funny, very attractive, and an amazing artist. The important part here is that Yeni is a Colombian citizen.
Although she had family here (US Citizens) and had visited previously under tourist visas, Yeni came to the US most recently under a work Visa. By trade and education, she's a Microbiologist, and she initially came here to work for the University of Michigan / VA in research.
It took many years for her to learn a skill that allowed her to gain legal entry to the United States. She sacrificed a lot, risked a lot, and did actions according to the rule of law.
Today, Yeni studied for her citizenship test (it's coming up this week). I guarantee you Yeni knows more about being a citizen than 60% of US Citizens.
Right now, without hesitation, my non-US Citizen wife can tell you how many representatives there are in the House of Representatives. She knows the terms of Congressman, Senators, the President.
She can name the Chief Justice of the United States Supreme Court, the Speaker of the House, the President, the Vice-President. She knows their political affiliations.
She can name our US Representative to congress.
Yeni can name two wars fought by the US in the 1800s. Two in the 1900s. She can name several reasons why we had a civil war, as well as discussing the Emancipation Proclamation.
Yeni knows about the flag, can tell you how many amendments there are to the US Constitution, who wrote the Constitution, and can name several tribes of Native Americans habiting the land before the colonists.
She also can discuss the rule of law.
To pass her citizenship test, Yeni must know that the rule of law dictates:
Everyone must follow the law
Leaders must obey the law
Government must obey the law
No one is above the law
I guess she'll be forced to lie to that question; because clearly there is no rule of law.
A path to citizenship for illegal immigrants?
Let's first start by removing the rule of law.