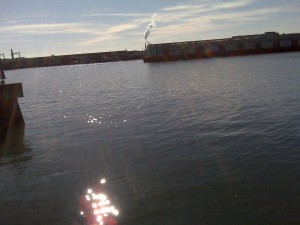 So today (December 20th) marks the 2nd Anniversary of Forrest's passing. Last year, I rode the Harley out to Cedar Key, Florida and threw a duck into the ocean.
Why a duck?
Well, when I graduated UF back in 2006 (Go Gators), my parents threw an open house graduation party for me. My mom decorated the house with an army of little foam ducks wearing a graduation cap.  Forrest loved them. He absolutely loved them and would quickly remove the head from the body, shake it around a little bit, find a new duck, lather, rinse, repeat. When we returned to Gainesville, I must have brought about 20 ducks with me and every now and then I'd leave one for him to seek and destroy.
After he passed away, I had a handful of them left, so on 12/20/2007 I rode out to Cedar Key on the bike (read the post) and had brought one of the ducks with me. I didn't really have a plan; I was just pretty sad and seeing the ocean always makes me feel better.
When I got to Cedar Key, I had the duck in my hand and was just kind of squeezing it (like one of those stress relief balls). For no particular reason I reached back and hurled the duck as far as I could into the ocean… watching as the duck "swam" out to see. I don't know why, but I loved it. And I said I'd do it every year I could.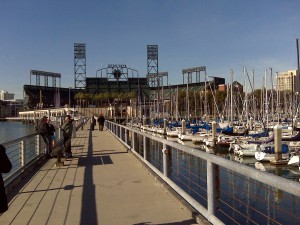 This year, I happened to be in San Francisco on 12/20, which of course wasn't an issue — since the ocean is right there. I had brought a duck and coincidentally my mom also brought one out for me (there's a long story there… but in 5 words or less, Great minds think alike). We went out to the Giants stadium and we launched the ducks into the Pacific.
And with that, I was reminded how much I still miss my dog.