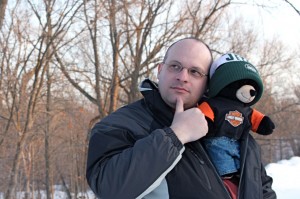 I learned that Colombian tradition places a lot of emphasis on Christmas Eve.
Last night, after eating tamales and playing Wii at Michael's, Yeni's family and I returned to the house, ate more tamales with friends, and then opened presents. I received some excellent presents this year, including Spider-man trinkets and a new Harley outfit for the bear.
We crashed very late and woke up to find much of Ann Arbor closed. The snow had let up and the roads, although icy, were mostly clear — so Yeni and I loaded up the family in the truck and headed outside the house.
Earlier in the year, Yeni and I stumbled upon a great little area called Chelsea (during one of the Harley rides we could take before riding the Harley would result in severe frost pain). We thought it would be great to show everyone this quaint little town and took the very long way through some Michigan side roads. After detouring through Saline and Montgomery, we arrived in Chelsea. We played in the snow for a while, looked at the Jiffy Mix factory, and headed back to Ann Arbor.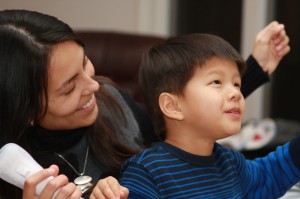 Back in town, I introduced Yeni's family to my family's Christmas traditions — and headed to Great Lakes Chinese Restaurant. We sat at the last available table and it was standing room only for those unlucky soles who arrived just minutes after us. The place was packed, and after finishing our delicious meal, we headed back to Michael's for some more Wii action.
A lovely day.