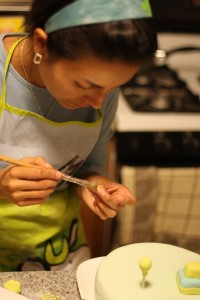 Lately, thanks to our newly purchased Kitchen-Aid mixer, I have been eating well — very well. Although I guess that depends on your definition of what "eating well" means. If it means eating low calorie, very healthy meals, then no. If it means eating delicious cakes and desserts that make your mouth water, then YES — I have been eating very well.
Yeni loves those cake shows and well, I truly think she's a natural. Not only are the cakes great looking, they also taste out of this world. Add this to the homemade cannoli and well, simply put, I'm a lucky man. Lucky man.
For more pictures of the cake (you have to see the little fondant bear), check out the album posted on my picasa account.