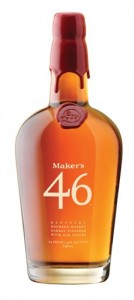 We all know that I love Bourbon — after all, there's a Fat Freddy Says page dedicated to the subject. Although Yeni has put a nix on my cigar smoking, I do still enjoy a good Bourbon whenever I get the opportunity. I also try to share my love of Bourbon with all, which genuinely works out very well for me (and Yeni's Bourbon infused buttercream frosting is a great benefit). But enough about me, let's talk Bourbon.
Maker's Mark recently announced a new Bourbon, titled simply Maker's 46. The difference between Maker's 46 and Maker's Mark Bourbon happens after the regular distilling process, in four steps:
Fully matured Maker's Mark is removed from its barrel. Top hoops are removed from the barrel, and the barrel head is pulled.
Ten wooden staves are then affixed to the inside of that barrel.
Searing the staves caramelizes the sugars in the wood, adding a unique flavor that finishes on the front of the tongue.
The fully matured Maker's Mark is then put back in the barrel and aged several more months. When it tastes exactly right, Maker's 46 is removed from the barrel, bottled, corked and dipped.
Simple as pie. Maker's 46 is 96 proof and supposedly has a hint of caramel flavor… I might need to get a bottle of this asap.
(By the bye… when Yeni adds a little bit of Jim Beam Red Stag to her cakes, it's out of this world)
More information: