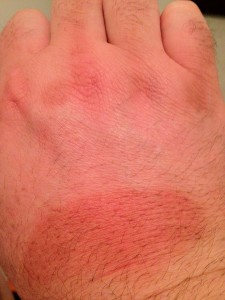 Took the bike out to St. Augustine with Yeni and Richard Armstrong yesterday. Started out as a late afternoon ride (left Gainesville at 1pm) after Yeni and I had finished some work at the bakery.
The weather held beautifully, with only a refreshing drizzle hitting us as we crossed Shands bridge. In St. Augustine, the tourist drivers were in full force, so after an amazing meal at The Oasis, we headed back to town via Hastings & Palatka.
On the bike, the heat doesn't really bother you… so long as you keep moving. It had been so long since we took an afternoon ride that I had forgotten to put sunblock underneath my summer gloves; resulting in the unhappy frowny face tan line you see attached.
Chili burger? Check.
Conch fritters? Check.
See blue? Check.
Good day. =)