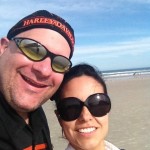 It's the first Sunday I can remember that Yeni and I didn't have to work. How'd we celebrate?
With a ride to Daytona Beach, FL.
Yeni had never been to Daytona Beach and we had a few hours to kill. We hopped on the Harley and rode…. until we saw blue. =)
We headed on SR 20 through Palatka and then took 100 until US1. It wasn't all without issue– I underestimated the amount of gas stations on 100 and, lets just say US1 came just in time.
Spent a very short time on the beach and then headed back through the Ocala National Forrest on SR 40.
Yeni's favorite part? The bear signs.