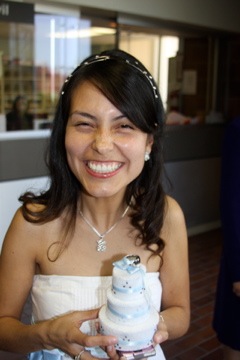 Saturday, Yeni and I will be celebrating our first wedding Anniversary. Of course, we could think of no better place to go than Disney World — after all, we go there quite a bit (Florida Annual Pass has it's privileges). Anyway…
Yeni's always been fascinated by these beautiful cakes that have become popular. She watches Food Network non-stop and just loves that cakes can be very custom and yet very beautiful. When we got married in May, she had made a stuffed mini-cake, as our wedding was very small and we wanted to keep costs down (plus she didn't know I had a surprise Courtney Clark cake waiting for us 🙂 ).
Luckily, around Christmas time, Yeni decided to try and make these cakes on her own. The good news? She's amazing. I know I'm biased, but it is awesome to see her make these cakes. The bad news? The cakes don't just look good, they taste REALLY good. And of course, this means that it's been even harder to lose this big ol' gut I'm carrying around. Ugh. Plus the house always smells incredible, so I'm consistently hungry… but I digress.
This year, it was my wife's turn to surprise me. You see, I love that little cake she made for our wedding. I love it so much I thought she should actually go in business making replica wedding cakes for Brides. I mean, seriously… look at that picture… the cake is just awesome (yes, we've already established my bias).
So, what was my surprise?
This year, Yeni reproduced our mini-replica in real cake! 🙂
Ah, married life is good.
(If you want to see more of Yeni's cakes, look at just a few of the ones she has made this month. Crazy)