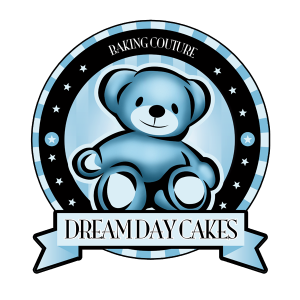 In case you haven't realized, Yeni and I have opened a bakery in Gainesville, FL. We've named it Dream Day Cakes and, well, you MUST COME BY! First, let me tell you a little story.
Once upon a time, in the land of North Central Florida, there lived a boy named Fred Posner. Fred, a large, rotund, bald boy, loved eating, riding motorcycles, and living la vida loca. Not so much listening to La Vida Loca but actually living it.
One day, while attending a wedding in Southern Michigan, Fred spotted a princess– a small, petite brown eyed princess. "One day she will be mine," Fred thought to himself as he danced the sprinkler with other wedding guests. (Ironically, dancing the sprinkler at a wedding usually works to repel a princess)
After devouring the wedding cake, and drinking many alcoholic beverages, Fred summoned the strength to approach his princess and talk with her. He failed. Words were not his friend, but this was ok. English was not the princess' friend, and it would take many years for the gods to make the star crossed lovers find their path. Six years to be exact.
Six years later, while not attending a wedding (or eating wedding cake)… Fred takes his stallion (a green Harley Davidson) and rides to the princess. The princess joins Fred and they ride off to the sunset, the petite princess secured behind the wall of a prince.
After getting married and returning to Gainesville, the princess decides it's time to follow another dream and starts baking cakes. Her cakes are fantastic. Fred actually is moved to eat cake over cannoli. It's a sign from the gods.
Fast Forward to now and you have…. Dream Day Cakes. A family owned cake bakery in Gainesville, FL proudly serving Ocala, Gainesville, High Springs, Lake City, and all of North Central Florida. From Wedding Cakes to custom sculpted masterpieces, Cakes do come true at Dream Day Cakes.
Visit us at http://www.dreamdaycakes.com.