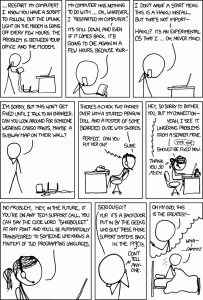 There are many things in this world that I like. If you've talked with me for any amount of time, the fact that I like eggs surely came up in conversation. Back in 2000, I really (and I mean REALLY) liked The West Wing. (I cannot believe 2000 was ten years ago)
My good friend Patrick and I most likely bonded over our enjoyment of The West Wing, and how the early episodes were written so fantastically that it made us want to (each) be full time writers. We've talked about this endlessly on VoIP Tech Chat, but I digress.
In 2000, The West Wing aired a Thanksgiving episode named Shibboleth. I don't know enough about Aaron Sorkin to know if this was when he was on drugs or not, but his writing during this time fucking rocked. No other way to describe it. The writing fucking rocked.
C.J.
[approaches] They sent me two turkeys. The most photo-friendly of the two gets a
Presidential pardon and a full life at a children's zoo. The runner-up gets eaten.

BARTLET
If the Oscars were like that, I'd watch.
C.J.
Yes, we will. On the following days, we will be meeting with Reverend Al Caldwell, members of Beijing's Embassy and INS agents. The president has asked Josh Lyman and Sam Seaborn to run these meetings so it's entirely possible that by week's end we'll have alienated Christians, China and our own government.
As usual, I digress yet again. Shibboleth refers to any distinguishing practice that is indicative of one's social or regional origin. Almost a password or secret phrase indicating your membership into the organization. But, Sorkin says it best:
JOSH
Mr. President?

BARTLET
How's it going?

JOSH
Sir, we've taken a couple dozen meetings in the last two days.

BARTLET
You met with Chinese embassy officials?

JOSH
Last night. They say…

BARTLET
Christians aren't persecuted in China. Since they aren't oppressed, they don't qualify for refugee status.

JOSH
Under U.S. or U.N. Conditions here.

SAM
They also make the point that they broke Chinese law when the left the country illegally, and should be sent back to the country of origin.

BARTLET
It's a fair point.

JOSH
The INS agents also feel it's not uncommon in this situation for refugees to… How do I put it… Feign faith.

BARTLET
Yeah. They'll be coached.

JOSH
So how do you tell the difference between…?

BARTLET
Do you guys know what a "shibboleth" is?

SAM
It's a catch phrase isn't it?

JOSH
A cliché.

BARTLET
It's from the Bible. "Then said now unto him, say now "shibboleth" and he said "sibboleth" for he could not frame to pronounce it right." It was a password, the way the army used to distinguish true Israelites from impostors sent across the river Jordan by the enemy.

JOSH
Sir…

BARTLET
I'm having one of the Chinese refugees flown here. I'll meet with him tonight.

C.J.
[rushes into the room] Mr. President, I can't, you know, indefinitely, with the turkey.

BARTLET
Yep.

JOSH
Excuse me, Mr. President, what are you going to ask the Chinese refugee?

Bartlet puts on his coat with C.J.'s assistance.

BARTLET
I'm going to ask him to say "Shibboleth."
Anyway, the XKCD.com comic above made me remember a time when TV had more to offer than idiots making bigger idiots of themselves. I certainly hope that one day my younger cousins don't think back and think that "Snooki" or some Teen Mom had said anything worth quoting. But that's just my opinion.