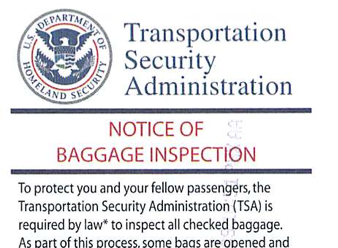 I absolutely hate the sacrifice of freedom in the name of security. Benjamin Franklin once said, "Those who would give up Essential Liberty to purchase a little Temporary Safety, deserve neither Liberty nor Safety."
I believe in those words and wish we would keep those in mind whenever, without probable cause or due process, the TSA (the government) searches your belongings — like mine were this past week (both checked and carry on).
I do not like it on a plane. I do not like it on a train. I do not like it on a boat. I do not like it with a goat. I do not like being searched Uncle Sam I Am.
Opening my checked bag and finding this neither made me feel safe nor secure.
The Fourth Amendment to the US Constitution:
The right of the people to be secure in their persons, houses, papers, and effects, against unreasonable searches and seizures, shall not be violated, and no Warrants shall issue, but upon probable cause, supported by Oath or affirmation, and particularly describing the place to be searched, and the persons or things to be seized.
The TSA:
During the inspection, your bag and its contents may have been searched for prohibited items.
I don't think Benjamin Franklin would be happy.