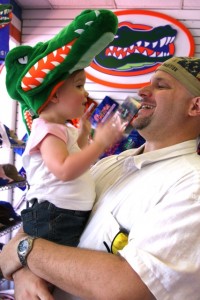 It's that time of year in Gainesville… the time where the gators play the gators in the ultimate fight over alumni donations. 😉
But, the great thing about Orange and Blue weekend, is that usually a good ol' friendly alumni comes to town. This year, it was The Egan's who graced our lovely town with their beautiful baby Grace.
Had a great time smelling the flowers, eating a burger at Cafe Gardens, and hanging out with great friends.
The rest of the weekend I spent catching up on films I never saw in the theater; which means I can scratch Dan in Real Life, The Dewey Cox Story, and No Reservations off my list.
My favorite of them? Clearly the chick flick was going to win.
For more pictures of the weekend, check out my photos at Picasa: